"Remember, to learn and not to do is really not to learn. To know and not to do is really not to know."

                                                                                      ~ Stephen R. Covey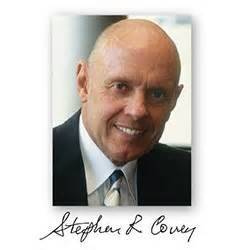 We shall always remember
Stephen R. Covey (24 October 1932–16 July 2012)
as the man who brought us the "7 Habits" genre of value-centric personal development and leadership excellence. Covey's bestseller,
The 7 Habits of Highly Effective People, 
which was first published in 1989, has sold over 25 million copies in 38 languages, including a
15th
anniversary edition released in 2004. In August 2011, 
Time
 magazine listed 
The 7 Habits
 as one of "The 25 Most Influential Business Management Books".
Arguably, no other non-fiction book has generated so many title spin-offs and parodies – from 7 habits in various aspects of one's lifestyle to 7 habits in areas of self-help – than Covey's original The 7 Habits book. But beyond the adage that "Imitation is the best form of flattery", the real measure of success is how powerfully Covey's work has impacted others. It would not be far-fetched to say that the priceless essence of Covey's "7 Habits" now inhabits the minds and hearts of millions around the world.
Other well-known books that Covey authored include First Things First, Principle-Centered Leadership and The Seven Habits of Highly Effective Families. In 2004, Covey released The 8th Habit while in 2008, he released The Leader In Me – How Schools and Parents Around the World Are Inspiring Greatness, One Child at a Time. At the crux of Covey's teaching is the firm belief in core values and principles, which reflects his own high standards of integrity.
Even as he advocated continuous learning through knowledge attainment in concord with practical action, Covey himself was a perennial learner both in life and in academia. He earned a B.Sc. in Business Administration from the University of Utah, an MBA from Harvard University, and the Doctor of Religious Education (
DRE
) from Brigham Young University. In recognition of his extensive work contribution, Covey was awarded ten honorary doctorates. Covey also served as a professor at the Jon M. Huntsman School of Business at Utah State University.
What better acknowledgement can we give Covey than a recap of his "7 Habits" here? It was the "7 Habits" that propelled him to global fame, not for fame's sake itself, but because those principles struck a chord deep within us and resonated with the truth we know.
Habit 1: Be Proactive
Habit 2: Begin with the End in Mind
Habit 3: Put First Things First
Habit 4: Think Win-Win
Habit 5: Seek First to Understand, Then to be Understood
Habit 6:

Synergize

Habit 7: Sharpen the Saw
Though Covey has left us, his works will endure for generations to come. Thank you, Covey, for showing us how we can develop a healthy habitude for effective living, learning and leading.