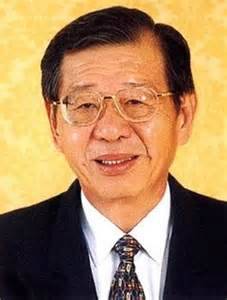 Tun Dr Lim
Keng
Yaik's
40 years of public service began in 1968 after he received his medical qualification from Queen's University Belfast in Northern Ireland and
practised
medicine for a brief period. He was the Minister of Primary Industries from 1986 to 2004, and the Minister of Energy, Water & Communications from 2004 till his retirement from politics in 2008.
Most Malaysians know Tun Dr Lim best as the inimitable, long-serving President of
Parti
Gerakan
Rakyat
Malaysia, the third largest component party of the ruling coalition, from 1980 to 2007. In 2011, Tun Dr Lim was appointed the second Chancellor of
Wawasan
Open University. He also held the distinction of being among the handful of Chinese Malaysians who had been conferred the title "Tun" – arguably, the nation's most prestigious award – by the Yang
DiPertuan
Agong
(King of Malaysia).
Tun Dr Lim will always be known for his trademark blend of bold
candour
, ardent
fervour
and strong character. While many leaders would conveniently choose the common and easy road of complaisance and conventionality, Tun Dr Lim opted for the road less
travelled
.
Candour
Though some might have considered Tun Dr Lim to be brash, others appreciated his forthrightness. His
candour
was demonstrated in different forms – as down-to-earth
humour
to connect with the ordinary folk, as a cutting-edge source of information to journalists, and as razor-sharp wit to slice through any bureaucratic hogwash. He spoke off-the-cuff from the heart, with no censorship or curry
favouring
.
In Malaysian politics, it is not uncommon for members of the Opposition to be outspoken, while members of the ruling party quietly toe the line. That is why Tun Dr Lim will always be remembered for being one of the rare voices within the ruling party who dared to speak up against Government policies if he felt that they were detrimental to the people's well-being. This was especially true during the tenure of former Prime Minister Tun Dr
Mahathir
Mohamad
whose Cabinet ministers were perceived to be "docile and submissive"
1
.
Even leaders from the other side of the political divide concede that Tun Dr Lim was a man of bold
candour
. Nicknamed
saw

chai

yee

sheng
(a Cantonese term meaning "comical doctor") by his friends for his hilarious remarks and gestures, Tun Dr Lim was naturally adept at weaving
humour
into the most serious of issues. Deep down he was more than just a jovial personality; he was a shrewd leader who was very comfortable the way he was.
Fervour
Tun Dr Lim was fervent in his work, which was evident from his in-depth knowledge of the country's commodities, plantations and utilities. He knew his facts and figures like the back of his hand. No question from any colleague, counterpart or journalist was too daunting for him.
As the Minister in charge of the country's plantation industries and commodities for almost 20 years, the astute negotiator was instrumental in not only looking after the welfare of local
smallholders
, but also in propping up global rubber prices during the market crash in 1999 and popularizing palm oil throughout the world. His contribution towards Malaysia's transition from an agro-based nation to an industrialized one was significant.
Overseeing the energy, water and communications ministry in the years before his retirement, Tun Dr Lim had helped to restructure the fragmented water industry, and was even so resolute as to warn the telecommunications industry captains to shape up.
When it came to work ethic, Tun Dr Lim was exacting. The fiery orator would not hesitate to reprimand slacking officials for their sub-par performance whenever the need arose, even if it meant doing so in the presence of others.2 His conviction for maintaining standards was reflective of his own commitment to the same standards that he held others accountable for.
Character
Beneath Tun Dr Lim's so-called forceful
demeanour
was a character that was conscientious and concerned about the people he was serving.  What had shaped his character was in no small part due to his experience living in a boarding school since he was seven years of age. Leaving home at such a young age, Tun Dr Lim experienced tremendous character building. He learnt how to be independent, to socialize, to forge meaningful ties with others, to live harmoniously in a multiracial community, and to consider the needs of others instead of being
self-centred
. This growth and development process would have a significant positive impact on his political perspective later on in life.
3
Though departed, the courageous and humorous voice of Tun Dr Lim will always remain in our memories. May his lively example of leadership continue to live on in the leaders after him; may the way he wielded his oratorical skills to deliver his core message inspire us to be unwavering in the worthy cause we stand for.
References