"I came to office with one deliberate intent – to change Britain from a dependent to a self-reliant society, from a give-it-to-me to a do-it-yourself nation."

       ~ Margaret Thatcher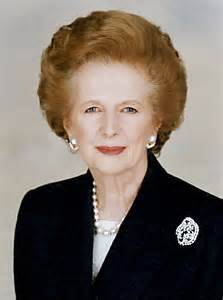 Baroness Thatcher of
Kesteven
– best known to the world as Margaret Thatcher – was born Margaret Hilda Roberts but adopted her husband's surname when she married Sir Denis Thatcher (1915-2003) in 1951. One of the most dominant leaders in the
20th
century, Mrs Thatcher started off as a research chemist with a Master's degree from Oxford University, before attending law school and qualifying as a barrister in 1954, a year after her twin children were born.
Not only was Thatcher the first female prime minister of Britain (and only one so far), she was also the longest-serving British premier in the postwar era. In office for three consecutive terms from May 1979 till she stepped down in November 1990, Thatcher was famously
labelled
the "Iron Lady" by the Soviet press after delivering a hard-lined speech in 1976.
The iron-willed Thatcher revealed that she loved argument and debate. Declaring in 1980 that, "I don't expect anyone just to sit there and agree with me – that's not their job," Thatcher expected others to be tough on her too.
Who can truly blame Thatcher for being unyielding when she was the woman with the iron task of reducing high unemployment, curbing inflation and tackling the ongoing recession? It was an extremely challenging role that earned her either admiration or antipathy from supporters and critics respectively. But she stood firm, even surviving a 1984 bomb assassination attempt by the IRA, and led the country to economic recovery.
Upon her retirement from the Commons in 1992, she was given a life peerage as Baroness Thatcher of
Kesteven
in the County of Lincolnshire, which entitled her to sit in the House of Lords. In 1995 Thatcher became a member of the Order of the Garter, the highest order of knighthood in England.
Indeed Thatcher was a leader in many different respects but among all these, there were three major leadership roles she undertook that were the most important in her life: wife and mother; head of one of the most influential nations in the world; and philanthropist.
As a wife and mother
"Any woman who understands the problems of running a home will be nearer to understanding the problems of running a country."
~ Margaret Thatcher (1979 – the year she became Prime Minister of Britain)
That Mr and Mrs Thatcher had remained married for 52 years before the former's death in 2003 is testament to her belief in traditional family values such as lifelong matrimony and fidelity. Though Denis Thatcher sometimes referred to his wife as "The Boss", Mrs Thatcher admitted that she would never have been able to be Prime Minister for those 11½ years had it not been for Denis.
Besides adoring her husband and their twin children, Mark and Carol, Thatcher also shared during an interview in the late
1990s
that her "greatest delight" was "when my daughter-in-law sends me photographs of the grandchildren. Apart from seeing them in the flesh, that is the greatest pleasure I have in the whole year, far exceeding everything else."
As the head of state
"I am not a consensus politician. I'm a conviction politician."
                                                                                            ~ Margaret Thatcher (1975)
Thatcher began her political career as a Conservative party member of parliament for
Finchley
(North London) in 1959. Undaunted by the male-dominated field, she boldly declared in 1965 that,
"In politics, if you want something said, ask a man; if you want to get something done, ask a woman."
Despite her confidence, Thatcher never expected to become Prime Minister. Just two years before she took over as the Conservative Party leader in 1974, Thatcher had stated on the BBC, "I don't think there will be a woman prime minister in my lifetime."
How wrong she was! At Britain's general election on 3 May 1979, the Conservatives came to power and the next day, Thatcher created history.
Thatcher entered office at a time when Britain was facing a major recession. She knew she had to take decisive drastic measures.
"The basic economic reality is that we cannot pay ourselves more than we earn. Here in Britain, at long last, we may have grasped the point that deficit financing cannot and will not bring about long-term prosperity," was her steadfast assertion.
Unfortunately, the transition was excruciating. As Thatcher privatized state-owned industries and utilities, reformed trade unions, lowered taxes and slashed public spending across the board, her policies did succeed in reducing inflation but led to soaring unemployment. Her popularity plummeted – the price Thatcher had to pay for austerity.
When the opposition pressured Thatcher to back down on her harsh policies, she was unfazed. At the Conservative party congress on 10 October 1980, she calmly announced, "To those waiting with bated breath for that
favourite
media catchphrase, the 'U-turn,' I have only one thing to say: 'You turn if you want to. The lady's not for turning.' "
Fate intervened when the Falklands incident in 1982 gave Thatcher the opportunity to flex Britain's sovereignty in the world arena, while proving that she was a leader to be reckoned with. As Britain emerged victors in the 
Falklands War
, there was a resurgence of support, resulting in her re-election in 1983.
On the international front, Thatcher developed a longstanding personal alliance with US President Ronald Reagan and later fostered good rapport with Soviet President Mikhail Gorbachev when he came to power in 1988. These links were instrumental in halting the dreaded arms race of the
1980s
.
During Thatcher's third term after being re-elected in 1987, her controversial policies led to her resignation on 28 November 1990.  By the time Thatcher left office, the principles of
"Thatcherism"
– that economic freedom and individual liberty are interdependent, that personal responsibility and hard work are the only ways to national prosperity, and that free-market democracies must stand firm against aggression – had garnered many followers. As Tony Blair acknowledged in his 2010 autobiography,
A Journey
, "Britain needed the industrial and economic reforms of the Thatcher period".
As a philanthropist
"This woman is headstrong, obstinate and dangerously self-opinionated."
~
ICI
personnel department assessment, rejecting a job application by the then Margaret Roberts in 1948.
People either loathed or loved Thatcher. To her supporters, she was strong-willed for all the right reasons. Her desire to change the world for the better did not end with her withdrawal from premiership. She decided to further the kind of values she personally fought for by establishing the Margaret Thatcher Foundation in 1992.
As a non-profit educational organization that collects funds wholly through private philanthropy, the Foundation aspires to advance the cause of political and economic freedom, especially in the newly liberated countries of Central and Eastern Europe. The Foundation has raised funds to help finance projects that promote Western business, legal and technical education in those nations.
The Internet is rife with widely divisive views about Thatcher and
Thatcherism
, but regardless of whether or not she was "right", she has left a legacy that inspires leaders to be unwavering in the values they stand for. And to those who think she was hard-core tough, her speech writer Sir Ronald Millar reveals that Thatcher was much tougher on her ministers than on others, "The more humble the position, the nicer she was [to them]."
Surprised? Ironically, no!
References