Ten Time-Tested Truths about Leadership (Part 1 of 5):
Kouzes

& Posner         :
"I don't know what you call something that's been the same for 25 years, but. . ."
Ken Blanchard             : "I'd call it the truth!"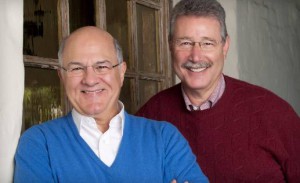 The above is an excerpt from an actual spontaneous conversation that influential leadership researchers James (Jim) M.

Kouzes

and Barry Z. Posner had 
with Kenneth Blanchard, a renowned management and leadership author in his own right. 
On the surface, The Truth About Leadership (2010) by

Kouzes

and Posner, might seem like a rehash of their earlier works. But if you delve deeper, you find that this isn't really the case because the authors have continued to diligently collect and study more data during the intervening years.
With a cumulative total of 30 years of research in their lifetime so far, as well as over one million responses to their leadership assessment tool to date,

Kouzes'

and Posner's findings confirm some enduring truths about leadership, which are worth revisiting, perpetuating and evangelizing.
Through their vast research,

Kouzes

and Posner have distilled these 10 time-tested truths that all leaders should understand despite the different circumstances they find themselves in. But a word of caution here: these leadership truths are neither a formula nor a shortcut; on the contrary, though the truths appear simple enough ("Oh, they sound familiar!" or "They seem like common sense to me!"), putting them into practice is much more complicated than you think.
Here are the 10 leadership truths at a glance:
Truth no. 1: YOU make a difference.
Truth no. 2: Credibility is the foundation of leadership
Truth no. 3: Values drive commitment.
Truth no. 4: Focusing on the future sets leaders apart
Truth no. 5: You can't do it alone.
Truth no. 6: Trust rules.
Truth no. 7: Challenge is the crucible for greatness.
Truth no. 8: You either lead by example or you don't lead at all.
Truth no. 9: The best leaders are the best learners.
Truth no. 10: Leadership is an affair of the heart.
In Part 1 here, we shall consider the first two truths.
Truth no. 1: YOU make a difference.
The first revelation that must grip you is that you matter. It may sound presumptuous or self-seeking but the truth is, if you don't even feel that you can make a difference, then you won't!
So, in what way(s) do you matter? The short answer is your

behaviour

.
Kouzes

and Posner's conclude that leadership is not so much about who you are or where you are from, but about what you do. From their research, a whopping 25% of the reason why people feel they could work more effectively is attributed to the leader's

behaviour

. On the other hand, a mere 1% of the reason is attributed to other factors: age, gender, ethnicity, nationality, education etc.
Take for instance, age. Even children can initiate a movement or campaign despite not having attained the legal age of maturity or the formal leadership titles that are normally bestowed upon adults only. There are ample stories in the media that attest to children taking the lead, for example, Melissa Poe of USA who founded Kids For A Clean Environment (Kids FACE) in 1989 as a fourth grader. More recently, we have role models such as

Harnoor

Gill, aged 14, a youth leader in Canada who has started a number of charitable initiatives and who promotes volunteerism among youths through his own extensive voluntary work. 
Today, technology has enabled many forms of surveillance that can monitor your movements for security purposes. Even your PC has a special IP address that can track where you are located geographically and which websites you have visited. Yes, you are constantly being watched, but in more ways than one. Whether you like it or not, people are consciously or subconsciously observing you in terms of your leadership capabilities – or the lack thereof.
These are the people in your immediate circle of influence, and those who come into contact with you: your family members, friends, colleagues, customers, suppliers,

neighbours

et cetera. Although we may be influenced by someone distant such as a respected leader halfway across the globe, that individual's influence is much less powerful than the influence of those who are physically around or close to us.
That is why

Kouzes

and Posner assert that leadership role models tend to be local. You can make a difference to those around you. Whatever skills and abilities you have, that is what is needed for you to lead. 
Therefore, ask yourself today: Who do I impact with my leadership capability? What kind of impact do I have on them? What positive difference can I make to their lives?
Truth no. 2: Credibility is the foundation of leadership.
Deep down, the second truth strikes a cord within us; it is so profound and so relevant – I call this the truth that touches the masses. Unfortunately, this truth has been tarnished and misrepresented so often that people have become disenchanted. Just recall: how many times have you felt incredulous when politicians sing about themselves being credible while derailing their opponents' credibility, when incredibly, they themselves have hardly done anything of credit?
Kouzes

and Posner define credibility as being honest, forward-looking, inspiring and competent, and attest that this admired leadership attribute has remained constant over three decades of their research. Many of us can relate honesty to credibility, but what about forward-looking, inspiring and competent?
Forward-looking means possessing a sense of direction and being concerned about the future of the organization. An organization's future is usually articulated in their vision and mission statement. But beyond articulation, people expect their leaders to be able to align the organization's future with their own future hopes and dreams. In a nutshell, if you don't show concern for your people's aspirations, they will not find you credible enough to lead them.
An inspiring leader is one who shares genuine enthusiasm, excitement and energy about the exciting possibilities ahead for his people. People don't want to follow a sullen, pessimistic and negative leader who lacks the energy, hope and passion to lead them to the finish line.
In short, the lesson here from

Kouzes

and Posner is, "Do What You Say You Will Do" (

DWYSYWD

).
The thought for you today is: Do I have the credentials of credibility that cause people to willingly follow me?
(To be continued in Part 2)