"Maybe death is the great equalizer, the one big thing that can finally make strangers shed a tear for one another."

 ~ Mitch Albom, "Tuesdays with Morrie"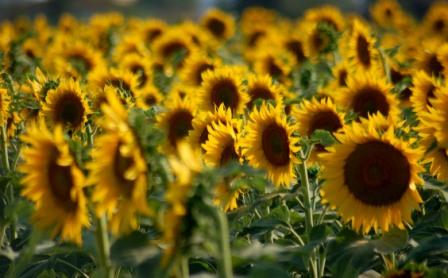 For many of us, we can never look at a field of sunflowers the same way again because of MH17. The memory is still recent, the pain too raw. The stark contrast between the bright hues of those lively blooms ­and the bleak pieces of the deadly tragedy wounds us with grief.
Entire families were wiped out. Eighty children were lost, including babies and teenagers. There were fathers, mothers, grandparents, retirees, educators, professionals, corporate leaders. Among them could be someone whom you and I might have known, or who knew someone connected to us. But even if we didn't personally know any of the victims, mere strangers and spectators with no commonality except our humanness would feel sorrow.
"There are people who have this on their conscience. There are families who can never hold the body of a child or a mother."


~ Silene Fredriks-Hoogzand1

who lost her son Bryce and his girlfriend Daisy Oehlers
In Holland, as details of the July 17 crash of Malaysia Airlines MH17 which killed all 298 onboard began to unfold, flags were lowered to half-mast. The jubilation from the World Cup football finals that had concluded just four days before, soon gave way to mourning. For a country of 16.8 million citizens, the crash that took away 193 Dutch lives had proportionally 1.5 times the impact on the Dutch population than that of the 9/11 terrorist attacks on the US population.2 In Malaysia, the national carrier received yet another setback of not only lost lives, but also the potential loss of livelihood for thousands of staff members whose jobs are expected to be made redundant in the upcoming Government restructuring of the financially troubled airline.3
Rising out of the ashes
Nevertheless, like the mythical phoenix rising out of the ashes of its predecessor in order to obtain new life, we see a fine example of the human spirit soaring above tragedy.
"…no one deserves what we are going through. Not even the people who shot our whole family out of the sky. No hate in the world is as strong as the love we have…"

~ The Maslins who lost all their children and their children's grandfather
The Maslins who lost all three of their children aged between 8 and 12 as well as their children's 68-year-old grandfather, made an amazing statement of forgiveness and love:
"Our babies are not here with us — we need to live with this act of horror, every day and every moment for the rest of our lives, no one deserves what we are going through. Not even the people who shot our whole family out of the sky. No hate in the world is as strong as the love we have for our children, for Mo, for Evie, for Otis. No hate in the world is as strong as the love we have for Grandad Nick. No hate in the world is as strong as the love we have for each other. This is a revelation that gives us some comfort…We desperately pray that this [thoughtfulness] continues, because this expression of love is what is keeping us alive."4
Much can be learned from the Maslins' powerful personal triumph over grief and hatred. Just as there is no hate that is strong enough to overcome love, there is no falsehood so strong as to defeat authenticity. Truth will prevail. Authenticity will emerge in the end. Can you or I, our corporation or our nation achieve the same?
Death, Equalization, Solidarity
August 22 was declared by the Government of Malaysia to be a National Day of Mourning – the first in the country's history. There were 43 Malaysians onboard MH17, including 15 crew members. On that solemn Friday, the remains of the first 20 victims to arrive home were flown into the Kuala Lumpur International Airport (KLIA) and given full military honours in a simple but dignified ceremony that was witnessed by the King, Prime Minister and other senior government officials. Many Malaysians throughout the country observed a minute's silence as the hearses were driven across the tarmac to their respective destinations of private funerals.5,6
"Today we mourn the loss of our people. Today, we begin to bring them home. Our thoughts and our prayers are with the families and friends of those who lost their lives. Today we stand with you, united as one."
~ Najib Tun Razak, Prime Minister of Malaysia6
At the time of writing this article, the repatriation of the remains of the victims of MH17 is still ongoing. The entire process has been an authentic manifestation of solidarity among Malaysians. It was a rare occasion where gender, race or religion was not an issue. Neither was one's age or status in society. All were Malaysians. All were truly equal in the eyes of the rest of us – no doubts, no debates and no discrimination.
The authenticity of the human spirit can be revealed in the most challenging of circumstances. We have seen how amid a tragedy of national – and to a certain extent global – proportions like this, we were equalized as we stood together in solidarity.
Leaders, can we not also do the same even when there is no death or tragedy involved? Must we wait till circumstances turn deeply tragic before we can lead with authenticity?
References
1 http://i100.independent.co.uk/article/these-quotes-from-mh17-relatives-are-truly-heartbreaking–g1erVGkabx
2 http://www.economist.com/blogs/charlemagne/2014/07/dutch-and-mh17
3 https://sg.news.yahoo.com/malaysia-airlines-cut-quarter-jobs-restructuring-115118724.html
4 http://www.terrasanctasqh.catholic.edu.au/news-details/prayer-and-reflection/prayer-reflection-a-prayer-for-flight-mh17-victims-their-families/true
5 http://online.wsj.com/articles/return-of-malaysias-mh17-victims-to-help-start-healing-1408662002
6 http://news.nationalpost.com/2014/08/22/remains-of-mh17-victims-return-to-mourning-malaysia-as-government-faces-fallout-of-two-plane-tragedies/